Evangelistic Block Party Trailers
The Block Party is trailer is more than just a party in a box, it's a witness wagon on wheels! Churches throughout America are using Block Party Trailers and are seeing thousands responding to the Gospel.
Fully equipped with all the hard goods you need to host an exciting and efficient evangelistic event the Block Party Trailer is ready to roll. All the church members need to bring are expendables like food, paper goods and witnessing tracts.
Click pictures below for larger view: opens in new window
Evangelistic Block Party Trailer
Evangelistic Block Party Trailer Contents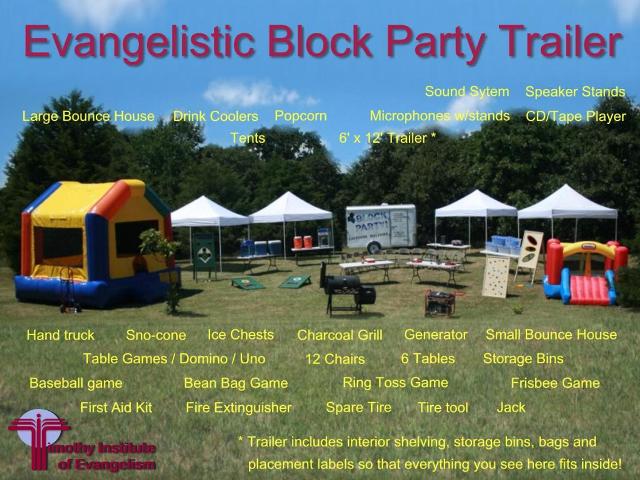 What's inside?
Large bounce house
Small bounce house
Sound system with microphones and stands
CD/Tape player
Popcorn machine
Sno-cone machine
Large Charcoal Grill
Ice Chests
Drink Coolers
Generator
Tents/Canopies
Tables
Chairs
Carnival Games
First Aid Kit
Fire Extinguisher
Board Games
And More!
Promotional Material to print.
Click item: Opens in new Window
For brochure: Print the horizontal pages back to back and fold into thirds. Glossy paper preferred